We've waited long enough. It's time to take a look back at Gutey's performance in the 2019 NFL Draft and analyze the impact the class has made on the Green Bay Packers.
Immediate draft grades are nonsense. We all know that. Prospects are regularly selected well outside of their preconceived 'range' – the Quay Walker selection is a perfect example of that. You'd have to dig pretty deep to find a draft analyst that had a first-round grade on Walker, and the Green Bay Packers decided to make him the first linebacker off the board in the 2022 NFL Draft, at pick 22.
Years from now, we'll forget where Walker was 'supposed' to be drafted but we'll remember that he was the first linebacker the Packers selected in the first round since AJ Hawk in 2006. Both he and the Packers will be judged based on how his performance relates to his early selection.
We rarely ever see extensions or second contracts offered to players prior to their third season in the NFL. If GMs wait three seasons to judge their own selections, then we'll do the same. That brings us to the Green Bay Packers 2019 NFL Draft class.
It was Gutey's second draft. He was fresh off four major free agent acquisitions and had two first round draft picks to play with. This was a make-or-break offseason for Gutey and the Green Bay Packers.
For more reasons than one, this was a successful offseason that's still paying dividends to this day.
Rd 1 Pk 12 – Rashan Gary
Man do I wish I saved Rashan Gary receipts. Got called a bust LITERALLY by a portion of his own fanbase, before he played a full NFL season. Elevated himself to the teams best pass rusher this year, and showed the team that life after Z is gonna be just fine. pic.twitter.com/ZniyGKVQ9Q

— McGinn Struck Again® (@Ferd_Turgeson) March 14, 2022
The Green Bay Packers stood on their 12th overall pick and selected the top player available on their big board – Rashan Gary. This was just weeks after double-dipping at the pass rusher position, signing both Preston Smith and Za'Darius Smith to monster deals via free agency.
Gary came out of Michigan as a freak athlete at the edge defender position. He timed or measured in the 90th percentile or better in basically every event at the NFL Combine – at just 21 years-old. However, he lacked the desired on-field polish that GMs were looking for and fell out of the top ten of the 2019 NFL Draft.
In reality, it was an optimal situation for Gary's development. He was allowed to mature as a run defender and develop some nuance as a pass rusher. He mostly sat in year one with just 256 snaps but started to come on during the 2020 postseason.
Then Gary absolutely broke out for the Green Bay Packers, shining as the team's #1 pass rusher last season. He recorded 11.5 sacks in the Packers' 18 games and the second-highest pass rush win rate in the NFL among qualifying edge defenders – via PFF.
He's looked at today as one of the top young edge rushers in the league and one of the most valuable assets in the NFL considering he's still on a rookie contract.
This pick was highly-*** by a good portion of the Packers-sphere – including myself. But it's safe to say that this pick was a slam-dunk by Brian Gutekunst.
Grade: A
Rd 1 pk 21 – Darnell Savage
The Green Bay Packers netted a first-round pick from the Saints when they elected to trade back in the 2018 draft – still managing to acquire Jaire Alexander by the way. They spent that pick on Darnell Savage, a late riser out of Maryland.
Like Gary, Savage entered the 2019 NFL Draft with incredible athletic traits. He recorded one of the top RAS of any safety prospect from the 2019 class.
Savage became an immediate starter next to Adrian Amos. His natural gifts were evident from the get-go, as the splash plays continued to pile up. However, consistency evaded him.
Fast forward three years and we're still waiting for that breakout season from Savage. We've seen plenty of flashes but busted coverages and missed tackles still plague the young safety to this day.
It's a do or die 2022 season for Savage. Maybe it's more of the same. Maybe Savage turns in a Pro-Bowl caliber season. Neither would surprise me.
Because of Savage's still un-recognized potential, it would be easy to call this an incomplete grade for Brian Gutekunst and the Green Bay Packers. But judging off of what we've seen so far, it's tough to call this pick a win
Grade: C
Rd 2 Pk 44: Elgton Jenkins
Then there's the Elgton Jenkins selection. Aside from the season-ending ACL tear last year, Jenkins' career with the Green Bay Packers has been sunshine and rainbows.
He was a day-one starter at left guard until he was tossed to the wolves at left tackle. Having never played the position before, Jenkins was an absolute revelation before tragedy inevitably struck.
Assuming Jenkins undergoes a full recovery, his selection in the 2nd round is one of the steals of the entire 2019 NFL Draft. Based on what we've already seen from Jenkins, this pick is an A+.
Grade: A+
Rd 2 Pk 75: Jace Sternberger
Jace Sternberger is a completely different story. The former Texas A&M tight end never started a game in the NFL. As a matter of fact, he only participated in 18 regular season games and recorded just 12 receptions.
He put together that long list of accomplishments prior to getting suspended and consequentially released before the 2022 season. Safe to say that as a third-round selection, Sternberger was a whiff.
Grade: F
Rd 5 Pk 150: Kingsley Keke
Hard to believe that a 5th-round IDL that started 17 games in the last 2 seasons, recording 46 pressures and 6.5 sacks over that time period, would be anything less than an A+ selection. But that just happens to be the case with Kingsley Keke.
Due to off-the-field concerns that to this day are fairly enigmatic, Keke's career with the Green Bay Packers was cut short. He was picked up this past offseason by the Texans and has a chance to re-write his story.
Still, the Packers managed to squeeze a decent amount of production out of the former 5th rounder. That doesn't go unnoticed.
Grade: C+
Rd 6 Pk 185: Ka'Dar Hollman
The former Toledo Rocket showed off some serious athleticism at his pro day but never capitalized on the potential that made him a 6th rounder with the Green Bay Packers.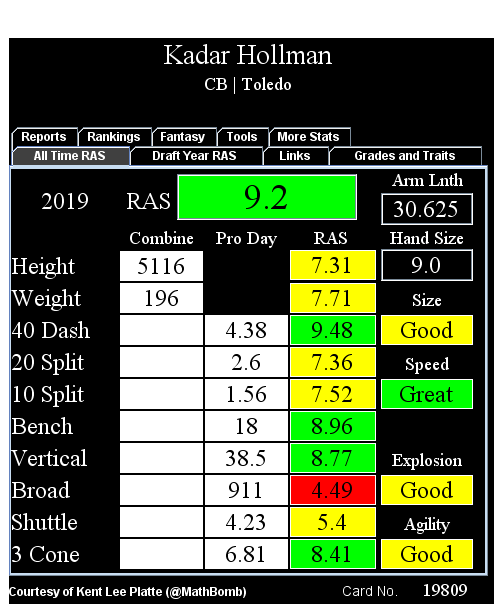 Ka'Dar Hollman couldn't crack the lineup as a defensive back and struggled to make an impact on special teams as well. He only wound up participating in 112 defensive snaps for the Packers.
Grade: D+
Rd 6 Pk 194: Dexter Williams
Much like Hollman, Dexter Williams produced an impressive pre-draft workout that got him drafted by the Green Bay Packers. However, Williams only managed 7 carries for 19 yards in 2 seasons as RB3 with the Packers.
Grade: D
Rd 7 Pk 226: Ty Summers
We started to notice a trend with the Brian Gutekunst led front office – select traits late in the draft and lean on development. However, the development part doesn't always catch on.
Summers has made his name known as a special teamer but will probably never be more than a "break in case of emergency" type of linebacker. However, he's still employed by the Green Bay Packers and has a chance at making the roster for the 2022 season. Not bad for a 7th round investment.
Grade: C+
Overall Grade: C/C+
With an unweighted 2.165 GPA, we can't delineate between a C and C+. If we put a greater emphasis on the earlier round draft picks – like Gary and Jenkins – this grade would be much higher. But a complete miss on Sternberger still holds this class back.
In Gutey's second draft, he netted 2, maybe 3, starters that will see second contracts with the Green Bay Packers. They'll do whatever it takes to retain Rashan Gary and Elgton Jenkins. They've already exercised the 5th-year option on Gary. They still have time to do the same on Darnell Savage.
But Savage's future is in his own hands. If he performs well this season, he'll be in-line for a payday. If not, his days in Green Bay could be numbered. Rounds 3 through 7 of the Packers' 2019 draft proved to be fairly inconsequential.
If the Green Bay Packers can continue to draft 3 starters per year with 2 of them becoming Pro-Bowl caliber performers, I won't complain. Hopefully the 2022 Draft can be as impactful as the 2019 NFL Draft.